The history of the Huguenots in Burg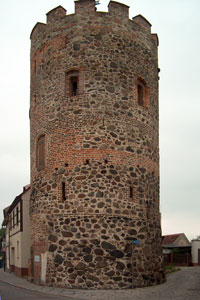 City fortification in Burg
Since history was recorded Burg belonged to the St. Mauritius Monastery (Moritz Monastery in Magdeburg). When it was elevated to the Archdiocese of Magdeburg in the year 962, Burg was taken along. After the Reformation was introduced the archdiocese was converted into the secular duchy in 1635. The Duke August von Sachsen-Weißenfels was appointed as its administrator. After he died the Duchy Magdeburg - with the exception of Burg - fell to the electorate Brandenburg.
The duke's son, Johann-Adolf von Sachsen-Weißenfels, was granted ownership of the city of Burg. He then sold it to Brandenburg for 33,000 thalers on June 14, 1687. The city was transferred one year later.






| | |
| --- | --- |
| King Henri IV, reigned 1589 to 1610 | King Louis XIV, reigned 1643 to 1715 |

Because of the political discrimination against the Huguenots in France, King Henri IV enacted the Edict of Nantes on April 13, 1598. It assured the Huguenots tolerance and the freedom to practice one's religion in catholic France. With the lifting of this edict in 1685 by Louis XIV - the grandson of Henri IV - a wave of refugees flowed into neighbouring countries (Switzerland, The Netherlands, England, Germany and the United States of America). The people feared imprisonment and banishment onto galleys if they were to profess their protestant faith. By 1730 about 200,000 Huguenots had fled France.
Next: The Edict of Potsdam